It's a Wonderful Life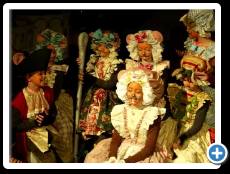 Stream Video to Website by VideoLightBox.com v1.9
Books and Lyrics By Marcy Telles.
Music By Janis Dunson Wilson
Copyright 2001, 2007, 2009.

A Full Length Holiday Musical in Two Acts "It's a Wonderful Life" is a musical adaptation, freely based on the 1946 movie by Frances Goodrich, Albert Hackett, and Frank Capra. Written for community theater with adults and youth, or youth only. Adaptable for 20 to 30 people

Productions:
It's a Wonderful Life was commissioned and produced in 2001 by Cinnabar Theater, Petaluma, California, for its youth theater program.Directed by Eileen Morris; Musical Direction by Janis Dunson Wilson; Photographers, Celeste and Jeff Thomas. Subsequent performances by Cinnabar Opera Theater were in 2002, 2003, 2007, 2008.
Audio CD of live performance available.
Reviews: Petaluma Argus-Courier, December 4, 2008
Scores Available: Piano Vocal; Piano, Clarinet/Saxophones, Drums; Vocal only.
Upon Request: CD Audio Accompaniment
MUSICAL NUMBERS CHARACTERS BY SONG
ACT 1
1. Is There Anybody Up There George, Ensemble
2. Welcome to Bedford Falls (Optional) Head Angel
3. Two Minutes Alone Young Bert, George, Harry, and Violet
4. Little Miss Sophisticate Young Violet, Ellie, and Mary
5. Wonderful Places Young George and Mary
6. Later in Bedford Falls (Optional) Angels
7. It's Not Easy Being a Mother Aunt Billie and Ma Bailey
8. Ask Somebody to Dance Violet, Harry, Ensemble
9. Charleston Ensemble
10. Do You Want the Moon? George and Mary
11. A Chicken in Every Pot George and Potter, Board Members
12. Even in Bedford Falls Instrumental
13. Harry's Back Ma Bailey, Aunt Billie, Ellie, Burt, Ensemble Girls
14. Even in Bedford Falls Reprise Angels
15. Nothing Can Stop Them Now Ensemble
ACT 2
16. Run on the Bank Ensemble
17. Multiply George, Mary, Ma Bailey, Bert, Ellie, Aunt Billie, Violet
17a. Multiply - Reprise (Optional) Angels
18. Love Doesn't Have to Be a Handsome Stranger (Optional) Burt, Ellie
19. Wonderful Places - Reprise Mary
20. Do You Want the Moon? - Reprise George, Mary, Children
21. A Piece of Paradise (Optional) George, Billie, Ma Bailey, Martinis, Burt, Ellie, Children
22. Christmas in Elmira Bank Examiner, Selected Ensemble
23. Big Day Violet, Potter Paper Boy, Children, Aunt Billie, Ensemble
24. Lullaby George
25. A Chicken in Every Pot - Reprise (Optional) Potter
26. Is There Anybody Up There - Reprise George
27. Pottersville Violet, Bert, Ensemble
28. Nothing Can Stop Them Now - Reprise Ensemble

CAST 20 to 30 actors
JOSEPH An experienced angel
CLARENCE A novice angel trying to earn his wings
YOUNG GEORGE BAILEY/PETER A boy of 12; George's son
YOUNG BERT/PAPERBOY George's best friend
MR. GOWER A pharmacist
YOUNG HARRY/JOHN George's brother; George's son
YOUNG VIOLET/JANEY George's friend; George's daughter
YOUNG ELLIE/DAUGHTER George's friend; Bert and Ellie's daughter
YOUNG MARY/ZUZU Ellie's kid sister; George's daughter
GEORGE Young George as an adult
BERT Young Bert as an adult
HARRY Young Harry as an adult
ELLIE Young Ellie as an adult
VIOLET Young Violet as an adult
MARY Young Mary as an adult
MRS. BAILEY George's mother
AUNT BILLIE George's aunt
THE BORE A schoolmate of George's
POTTER The richest man in town
BOARD MEMBERS Three or four officers of the Building and Loan
RUTH/ MRS. MARTINI Harry's fianceé; a roadhouse owner
MARY'S MOTHER Mary's mother
JONATHON Mary's kid brother
BANK EXAMINER An officious type
ENSEMBLE Minor characters double as townspeople, young peopele at the dance, etc.
Time: Summer 1914 through Christmas 1945. Place: Bedford Falls, New York.