The Tailor Of Gloucester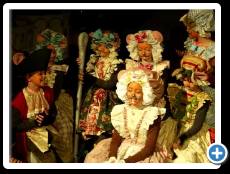 Stream Video to Website by VideoLightBox.com v1.9
Book & Lyrics by Marcy Telles
Music by Janis Dunson Wilson


A Light Holiday Operetta in Two Acts based on the short story of the same name by Beatrix Potter. For Community Theater with adults and youth, or youth alone. Adaptable for 14 to 30 actors.


Productions
"The Tailor of Gloucester" was commissioned and produced in 2004 by Cinnabar Theater, Petaluma, California, for its youth theater program. Directed by Sheri Lee Miller; Musical Direction by Janis Dunson Wilson;
Photography by Celeste and Jeff Thomas.
Subsequent performances by Cinnabar Theater were in 2005 and 2006.
Audio CD of live performance available.
Scores Available: Piano Vocal; Piano, Flute/Clarinet/Saxophones, Drums; Vocal only.
Upon Request: CD Audio Accompaniment


The mayor is getting married on Christmas Day! By an odd coincidence, so are two adorable mice living in the shop of the tailor who is making the mayor's wedding coat. The neighborhood children (and the tailor's cat!) are more interested in the mice than the mayor--for the children have heard that animals can speak on Christmas Day (and the cat knows that mice taste great on any day). All the excitement makes the tailor ill, and Christmas Eve is fast approaching--will he finish the coat on time? Will the mice survive the attentions of the tailor's cat? What will the mice tell the children? This charming operetta shows how kindness is rewarded just when we need it most.
Cast of 14 to 30 actors
Tailor
Simpkin the Cat
The Cat Gang (2-4) The Cat Gang and Mayor's Entourage can be combined
Mayor's Entourage (2 - 4)
The Mice (2 - 8)
Mistress Mouse
Bride Mouse
Groom Mouse
Children of the Town (3 - 6)
Mayor
Mayor's Fiancée

MUSICAL NUMBERS CHARACTERS BY SONG
ACT 1
1. When We Work Together Mistress Mouse, Mice
2. It's Clothes that Make the Man Cast
3. Snip and Sew Tailor, Children, Mice
4. The Love Bug Mice
5. You'll Be Dinner Later On Mice and Simpkin
6. Cherry-Colored Coat Tailor and Simpkin
7. Four-Penny piece Tailor and Simpkin
8. Tappity Tap Mice
9. Why Get Married on Christmas Day? Mayor, Fiancèe, Entourage, Mice, Children
10. Missing Mice Simpkin, Cat Gang
ACT 2
11. The Tailor's Dream Cast
12. Animals Can Speak on Christmas Eve Mice, Children
13. When We Work Together Reprise Mice, Children
14. A Mouse Can Make a Cat Look Bad Simpkin, Mice, Children
15. Three Little Mice Simpkin, Mice, Children
16. A Mouse Can Make a Cat Look Bad Reprise Cat Gang, Mice, Children
17. Cherry-Colored Coat Reprise Tailor, Simpkin
18. When We Work Together Reprise Cast
19. Why Get Married on Christmas Day? Reprise Cast